STUDY FINE ARTS IN BELARUS
To study fine arts in Belarus is the right decision you will ever make for your academic career.
WHERE TO STUDY FINE ARTS IN BELARUS?
Popularity of fine arts is growing among international students and every year many foreign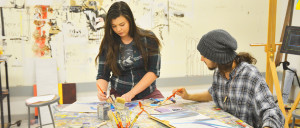 students come to study fine arts in Belarus.
There are many arts universities in Belarus where different arts courses are taught for bachelor and masters level.
Teaching staff is very professional and way of teaching is quite friendly at these fine arts universities in Belarus.
Almost in every major city of Belarus these arts universities are situated.
Tuition fee in Belarus for fine arts courses is very affordable and living expenses are also very low as compare to other European countries.
These arts degrees from Belarus are recognized everywhere in the world so arts graduates from Belarus has a very bright career opportunities globally.
For 2023-2024 also we are receiving applications in huge number from foreign students who want to study fine arts in Belarus at one of the fine arts university.
QUALIFICATION REQUIRED?
Any foreign students who is having secondary school certificate may apply for the admission at fine arts universities in Belarus.
Masters in fine arts is also taught at almost all arts universities in Belarus and these masters in arts applicants must hold a bachelor degree too for applying at fine arts academy in Belarus.
HOW ADMISSION PROCESS GOES ON IN BELARUS FOR INTERNATIONAL STUDENTS?
Foreign students who are interested to study arts courses in Belarus may scan their secondary school certificate copy with travel passport copy in the Email of admission office.These documents are accepted by scan as it is the fastest documents receiving Chanel.
Those foreign students who are applying for masters in arts at one of the state university in Belarus must scan their 4 Years bachelor degree too for admission eligibility.
Once these documents are received by the admission team,Assessment process takes 2 days of time and after assessment admission team member assigned for specific country admission send an eligibility Email to the applicant.
Once international applicant receives his/her eligibility Email,He/She send his/her admission fee and scan the fee slip in the Email of admission office where they sent their admission documents.
There are sometimes international students who are not found eligible on some academic grounds,So they are asked to scan more supporting academic transcripts for the completion of their admission process.
WHICH DEPARTMENT APPROVES THE ADMISSION LETTERS IN BELARUS FOR FOREIGNERS
Once admission fee slip is received by the admission staff,Admission documents are forwarded to the migration department for approval as in Belarus admissions are only approved by the migration department.
This issuance process at migration department takes 2 Weeks of time and the official study invitation is handed over to admission staff which is sent to the applicant for visa processing.
STUDENT VISA PROCESS FOR BELARUS
Mostly international students depart with the official study invitation and OK TO BOARD for departure and the visa is issued at Minsk international airport for 110$.
Some countries nationals require visa before arrival and these countries are Nigeria,India,Pakistan and Egypt but these countries nationals may also obtain visa on arrival.
Belarus Embassies are situated in these countries.
We strongly advise all foreign students to scan their air ticket 3 Days before departure as in case our staff remember does not receive the student at Minsk international airport,He/She will be deported back to homeland.
Foreign students who are interested in studying arts at state universities in Belarus may contact us for their 2023-2024 admission process.
PH,WHATSAPP,VIBER: +380506742243
EMAIL: studyabroadbelarus@gmail.com