STUDY LEADERSHIPS IN BELARUS
To study leadership in Belarus is very good opportunity for all foreign students no matter which country they belong to.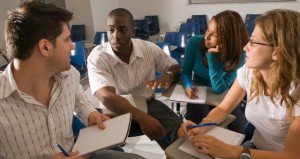 WHERE TO STUDY LEADERSHIP IN BELARUS?
Leadership in Belarus is taught at many state universities which are situated in different cities of Belarus.
Universities in Belarus prepare the best graduates in the field of leadership and it is proved by the foreign students who come to Belarus every year for studying their leadership management courses.
Quality of education is very high at these state universities and lectures at leadership faculties are also highly qualified.
Tuition fee is Belarus is also very reasonable for foreign students while comparing with other countries in Europe.
These graduates are prepared to work in any country in managerial and leadership sectors as degree from any university in Belarus is highly recognized globally.
At universities in Belarus foreign students come from different countries to study leadership courses.
These foreign students are provided the accommodation by the university management at university hostels and these universities hostels in Belarus are fully equipped with modern world facilities.
Some foreign students live at private apartments and universities do not object to it.
QUALIFICATION REQUIRED TO STUDY LEADERSHIP IN BELARUS
Leadership courses in Belarus are taught for bachelor and masters level for both national and international students.
For a bachelor degree admission all foreign applicants present their secondary school certificate copy and also their passport copy.
Indian and Pakistani students must present their 10+2 certificate copy in case they want to take admission at any university in Belarus for a bachelor degree in leadership.
For masters in Belarus foreign applicants should a bachelor degree with them already and it does not matter that they earned this degree from Belarus or abroad.
ADMISSION PROCEDURE FOR STUDYING LEADERSHIP IN BELARUS
Admission procedure is very simple and easy to follow,As we have described above the requirements for bachelor and masters degrees so all foreign applicants are required to scan their admission documents for evaluation in the Email of admission staff which is written on this page.
Once these documents are received by scan in the Email of admission staff,They evaluate the possibility of admission within 1-2 Days of time and inform the all foreign applicants by an Email.
Those all foreign applicants who are found eligible are required to transfer their admission fee while those foreign students who are not found eligible on academic grounds are asked to send more academic documents if required for their admission completion.
ISSUANCE OF OFFICIAL STUDY INVITATION FOR STUDYING IN BELARUS
No matter which course any foreign applicant wants to study in Belarus,All official admission letters are approved by migration department within two Weeks of time once admission fee is received by the admission staff.
All foreign applicants must require this official study invitation for their Belarus student visa processing no matter they obtain this student visa upon arrival at Minsk international airport or from Embassy of Belarus in their country.
We welcome international students from every country who want to study leadership in Belarus.
PH,WHATSAPP,VIBER: +380506742243
EMAIL: studyabroadbelarus@gmail.com