STUDY GRAPHIC DESIGN IN BELARUS
We assure every foreign students who come to study graphic design in Belarus that he/she will never regret for selecting Belarus for his/her decision to study at universities in Belarus.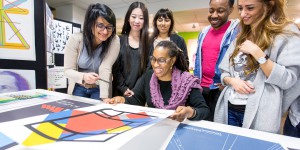 ADMISSION REQUIREMENTS FOR STUDYING GRAPHIC DESIGN IN BELARUS
Actually graphic design in Belarus is taught for different degree levels.
1:BACHELOR
First degree in graphic design from any university in Belarus consists of 4 Years and this program graphic design in Belarus is taught at many engineering universities in different cities.
To be admitted at any university in Belarus for studying graphic design course every international and even national applicant should have secondary school certificate and international passport.
Asian countries nationals must have with them 10+2 certificate and it is called intermediate in India and Pakistan.
2:MASTERS
Masters in Belarus for graphic design degree is studied for 2 Years at any engineering university in Belarus.
All international and national applicants should have a bachelor degree with them for qualifying and this bachelor degree no matter from where they earned ,from Belarus or any other country.
HOW TO SEND ADMISSION DOCUMENTS FOR STUDYING GRAPHIC DESIGN IN BELARUS?
Admission office always recommend foreign nationals too not use postal and other courier services to send their admission documents as this way of sending original documents is not secure and even very expensive and time taking.
Admission office in Belarus accept the admission documents copies by scan and originals foreign applicants will bring with them upon arrival.No translation is required before arrival as admission staff translate the all admission documents themselves.
Admission documents list depends on which degree level foreign applicant wants to study in Belarus and this information is mentioned above.
ADMISSION PROCESS FOR STUDYING GRAPHIC DESIGN IN BELARUS
After receiving the admission documents admission office assess their admission eligibility or ineligibility and this process is completed within 1-2 Days of time.
Once assessment process is done,Admission office write to every foreign student individually for his/her admission possibility.
All those foreign applicants who are found eligible send their processing charges and scan the transfer bank receipt in the Email of admission office.
Those foreign applicants who are not found ineligible due to any academic reason are asked to scan more academic certificate for their admission process.
BELARUS STUDENT VISA FOR FOREIGN NATIONALS
Please note that official study invitations for foreign nationals in Belarus are only approved by migration department and once admission fee is received,Admission documents are sent to the migration office for the issuance of official study invitation which is required for Belarus student visa.
Belarus student visa is normally issued upon arrival for most of the Asian and African nationals at Minsk international airport with the help of official study invitation and OK TO BOARD for departure.Visa fee is 110$ at Minsk international airport.
Some countries nationals are required to obtain Belarus student visa before arrival because Embassies of Belarus are located in these countries like Nigeria,India,Pakistan and Egypt but these countries nationals may also obtain visa on arrival.
For any more information required for studying in Belarus please contact us.
PH,WHATSAPP,VIBER:+380506742243
EMAIL: studyabroadbelarus@gmail.com